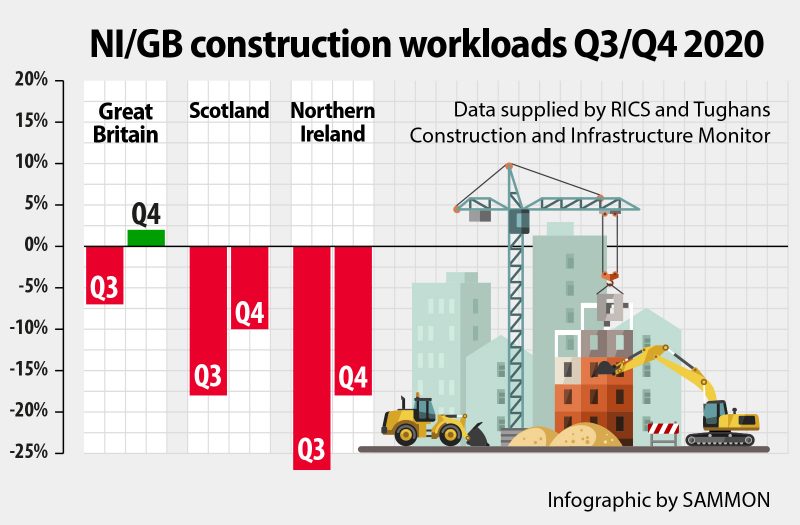 In Northern Ireland, the outworking of Brexit and the on-going Covid-19 pandemic are the two key factors behind three successive quarters of negative construction balances.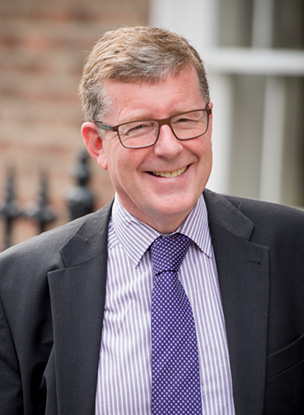 Construction workloads trending upward
But, if we are to look for a glass-half-full, the final quarter of 2020 was at least trending back in a positive direction. A survey by the Royal Institute of Chartered Surveyors (RICS) and Tughans showed that the workload balance of the Northern Ireland construction sector stood at -18 in Q4 compared to -27 in Q3 and an unprecedented -60 in Q2.
However, respondents are continuing to highlight a range of challenges, including concerns around material availability and cost increases. General uncertainty in the economy linked to Covid-19 and post Brexit is the main deterrent to growth.
At a sector level, there were rises in workload balances for both public and private house building and a modest increase in infrastructure workloads. However, private commercial and private industrial workloads were reported to have experienced steep falls.
Whether it's the indomitable spirit of Northern Ireland's businesses or something else… it is heartening that, a net balance of +24% of respondents expect workloads to be higher in a year. However, not surprisingly the 12-month outlook for employment is flat and the balance of NI respondents expects profit margins to continue to be squeezed.
Infrastructure Commission for Northern Ireland
Taking the longer view in Northern Ireland we must continue to strive for the creation of an Infrastructure Commission for Northern Ireland. Such an independent body would help develop an objective, long-term strategy to deliver strategic infrastructure in the best interests of the economy and society.
In October 2020, Infrastructure Minister Nichola Mallon received a final report from the Ministerial Advisory Panel on Infrastructure and the Report sets out how such a Commission would support the long term planning and development of infrastructure here.
Kirsty McManus, Chair of the Ministerial Advisory Panel said: "The Panel firmly believes that the establishment of an independent Infrastructure Commission is the crucial first step in empowering us to turbocharge infrastructure to deliver cleaner, greener, sustainable and inclusive growth for all."