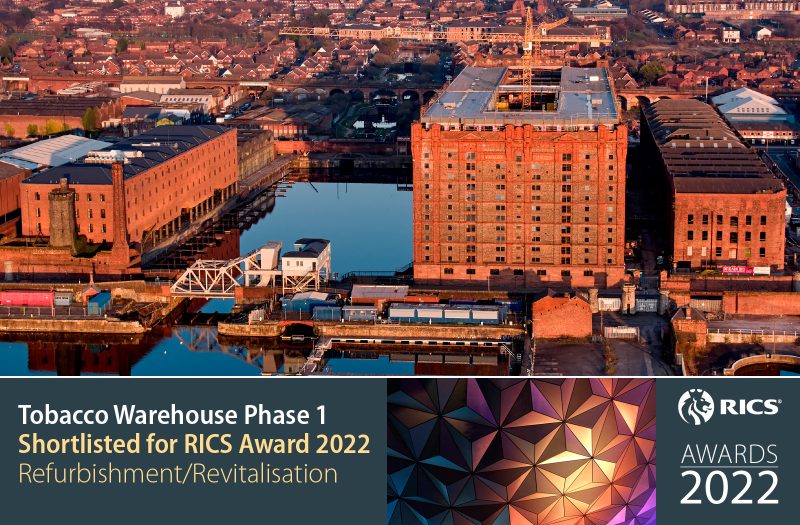 Sammon's Heritage Team was pleased to be part of the delivery team for Phase I of this landmark heritage regeneration project at Tobacco Warehouse Apartments in Liverpool; providing pre-contract Quantity Surveying and Cost Advice Services and post-contract Employer's Agent Services.
Following its construction in 1901, Tobacco Warehouse in Liverpool's historic Stanley Dock was the largest brick building in the world. The Grade II 14-storey building has a gross internal area of 32 acres (1.4 million sq. ft), and its construction used 27 million bricks, 30,000 panes of glass and 8,000 tons of steel.
A three-phase plan has been established for the conversion of the entire 1.4 million sq. ft heritage building into 538 residential apartments and approximately 100,000 sq. ft of ground-floor commercial space. The project is at the heart of the city's most ambitious regeneration programme in an area being transformed into a thriving new creative neighbourhood known as the Ten Streets. Its regeneration commenced with the multi-award-winning Titanic Hotel at Stanley Dock.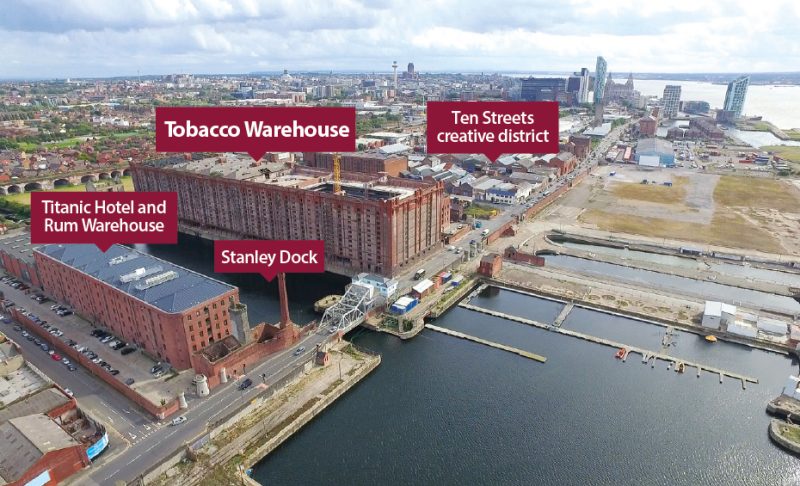 Professional services provided
The £40m Phase 1 at Tobacco Warehouse has delivered 192 apartments and 28,557 sq ft of ground-floor commercial space and basement car parking. With sizes ranging from 980 – 2725 sq ft.
In the pre-contract phase, Sammon worked in close partnership with Stanley Dock Properties Ltd to establish cost models for a range of scenarios. Sammon prepared a suite of professional appointment documentation for use with the design team; and produced the JCT Design and Build Contract pack. Considerable coordination was undertaken with all stakeholders and funders.
In the post-contract phase, Sammon provided Employer's Agent services under the JCT Design and Build Contract, as well as ongoing Quantity Surveying services and continued interaction with funders.
New York-style 'loft living'
The refurbished Tobacco Warehouse features split-level 'New York-style' loft apartments and penthouses with exceptional waterfront views across Stanley Dock. The Warehouse's original design layout has allowed for substantial open floorplans, high ceilings, and the integration of distinctive industrial features. Bare brick walls, cast-iron columns and concrete ceiling beams combined with impeccable modern design propel this iconic building into the 21st century whilst preserving its architectural charm.
Nominated for an RICS Award 2022
The Heritage Team at Sammon is delighted to learn that Tobacco Warehouse Phase 1, has been shortlisted for the RICS UK Awards 2022 in the 'Refurbishment / Revitalisation' category. View the full list of nominees at RICS Awards 2022.